FOGGY GLASSES AND WEARING A MASK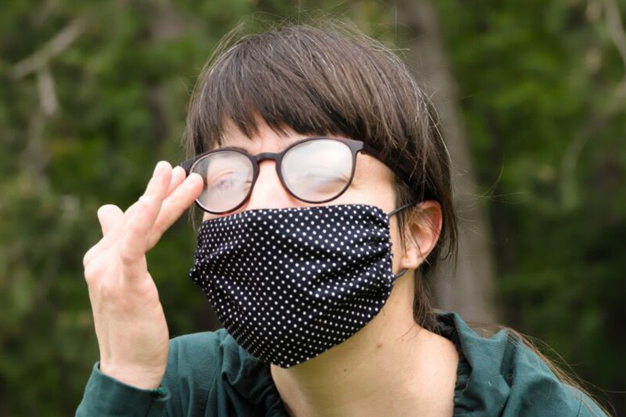 Critical situations call for critical solutions and knowledge is obviously power. Knowing what to do to tackle foggy glasses gives you better glasses/mask wearing experience. As human beings, we have been blessed with the power of adaptation in whatever situation we find ourselves in. Who would have thought masks would be so important in our lives, to the point of being a major topic of discussion in every city across the world. As a result of the COVID-19, masks have become more or less compulsory for us to wear.
However, masks aren't without their own issues, the most common being the fogginess they cause for glasses wearers. As much as they go a long way in preventing us from contracting the coronavirus, the fogginess they cause can be quite discomforting.
Below is a statistic showing the issues that most affect people when wearing a facemask. The statistic was taken in the UK as of May 2020 and it shows that steaming up/foggy glasses is the issue that affects people the most with  39% of the people saying so.
Check out the following ways we've curated to help prevent your glasses from fogging up:
USE OF SOAP AND WATER.
This is so easy and yet so effective. All you need to do is wash your glasses with any regular soap (like washing up liquid) and water. You then let it dry off or gently clean with a clean microfibre cloth. The catch is that the soap leaves a thin film that serves as a fog barrier. However, if you have special coatings on your lenses, you might need to seek the advice of a healthcare professional whether it's safe for you to use this trick or not.
PLACING TISSUE INSIDE THE TOP OF YOUR MASK.
Carefully folding tissue and placing it at the inside top of your glasses helps absorb the moisture that comes from your breath, thereby preventing the moisture from getting to your glasses and causing the fog.
TAPE IT DOWN.
There are skin-friendly tapes that can be used to hold your masks down across the top edge of the mask where your nose creates a gap. You can buy a couple and move about with to use when the need arises, as they're quite portable. Be careful not to use tapes that can cause skin irritation.
TIGHTEN YOUR MASK ACROSS YOUR NOSE.
Make sure to leave no space at the top of your mask that allows for air to escape from your nostrils to your glasses and cause the fog.
OPT FOR A MASK WITH A NOSE BRIDGE.
Some masks come with a nose bridge that makes the masks more effective by allowing less or no air to escape and even more comfortable as the mask balances better at the top of your nose.
TRY ANTI-FOGGING PRODUCTS.
There are several anti-fogging products specifically designed to tackle fog on glasses, you can also try them. However, do not use anti-fogging products meant for cars and other things as you stand the risk of damaging your glasses.
---