SHOPPING FOR EYEWEAR ONLINE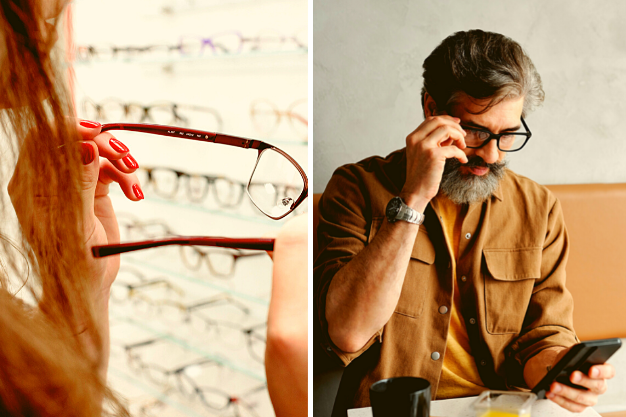 Shopping for Eyewear Online
Wondering whether to shop for new eyewear online or go to a physical store?
This is the question we ask ourselves when we are about to make a purchase. The growth of online shopping has been exponential recently. There is a huge increase in the number of consumers choosing to buy online rather than in-store!
Eyewear shops have reliable and dedicated online stores to make easy purchases, but it does not stop physical shopping. These two shopping mediums have their pros and cons, but online shopping is frequently used.
Purchasing eyewear online can be efficient and quick, taking you 10-20 minutes to pick a pair, but delivery time is not guaranteed unless dealing with trustworthy companies.
Advantages 
Convenience: You can shop from the comfort of your home or office, all you need is a device and internet access to view and place an order of the desired eyewear.
24/7 Shopping: You do not need to wait until weekends or hurry to a store after work to make a purchase. Online shopping is available  24 hours a day, 7 days a week.
International Availability: If you cannot find the right pair in your home country, you can look abroad. Shopping online gives you access to the international market.
Prices Comparison: You can easily compare prices of different pairs you are interested in at different vendors before buying
Review: Another advantage is going through reviews and seeing what other people think of the eyeglass or how good the glasses are.
Calm Decision Making: You can proceed at your own pace. Make research when necessary before buying any eyewear. There is no pressure from a salesperson when shopping online.
Home Delivery: Items can be delivered to your doorstep or nearest pick-up station, you don't have to go too far to make a purchase.
Disadvantages of Online Eyewear Shopping
Delay: Purchasing eyewear online can be fast, sometimes delay in delivering the product is inevitable
Product Mix-up: Mistakes happen and they are inevitable. Product mix-up is an issue online stores face especially if their system is not a good one, or they have clumsy staff. Sometimes we get another product contrary to the product we ordered.
Pricing: Sometimes, the payment required to ship eyewear product surpasses the price of the eyewear itself. It is easy to cancel the purchase and go to an eyewear store nearby.
Delivery: Several problems occur in the process of delivering products. Products arrive broken or even missing. This does not happen frequently, however, it is frustrating when it does
Poor Quality: What you see is not what you get. This is a concern that is building up in the e-commerce community. People receive counter products and that tells on the reputation of the eyewear store or brand. The best way to avoid such is by, going through authorised channels to avoid being defrauded.
Wrong size: Glasses are easier to buy when you know your size or even better when you try them on! Unfortunately, buying online leaves you with only a size selection and that could pose a problem to many.
Online or Store Eyewear Shopping?
Well, it is up to you to decide whether or not to shop for eyewear online or in a physical store. Depending on which medium can get the eyewear you are looking for in an easier, better and more enjoyable way.
---